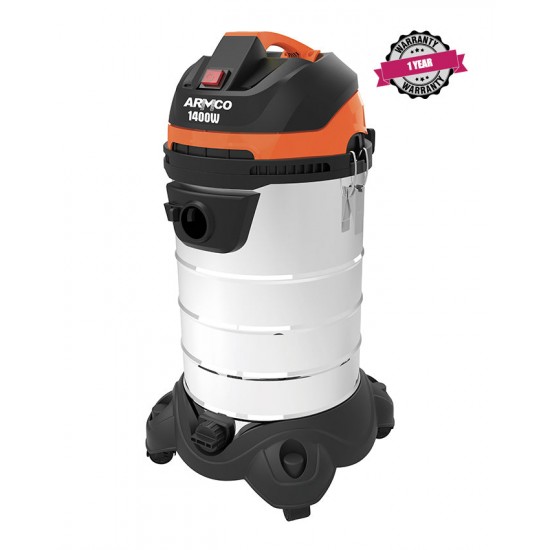 ARMCO AVC-WD3014M 30L Wet-Dry Drum Type Vacuum Cleaner
Stock:

In Stock

Model:

AVC-WD3014M

SKU:

2550

UPC:

2550

MPN:

AVC-WD3014M

Armco
ARMCO Wet & Dry Drum Type Vacuum Cleaner

Here to meet all your home and office needs, the Armco Wet & Dry Vacuum Cleaner brings you extraordinary suction power and efficiency. Get every nook and cranny dustless and sparkly with this amazing piece of technology.
Suction Power
Packing a Suction Power of 1400W, the Armco AVC-WD3014M Vacuum Cleaner guarantees quality and effective cleaning. Make your space dust free and sparkly clean with a machine that will serve you in multiple ways. Unlike to conventional cloth type filter, the AVC-WD3014M has a detachable filter. The filter can be washed and delivers more improved hygiene.
HEPA Filter
The HEPA filter traps the fine particles (such as pollen and dust mite feces) which trigger allergy and asthma symptoms. HEPA filtration works by mechanical means unlike the ionic and ozone filtration which use negative ions and ozone gas respectively. So, the chances of potential pulmonary side-effects like asthma and allergies is much lower. The unique chamber design generates strong air circulation through the cyclonic air path of the inner chamber. Dirt and debris separates from the air due to a powerful centrifugal force. As a result, dust particles and debris are sieved into the outer chamber and through the filter.