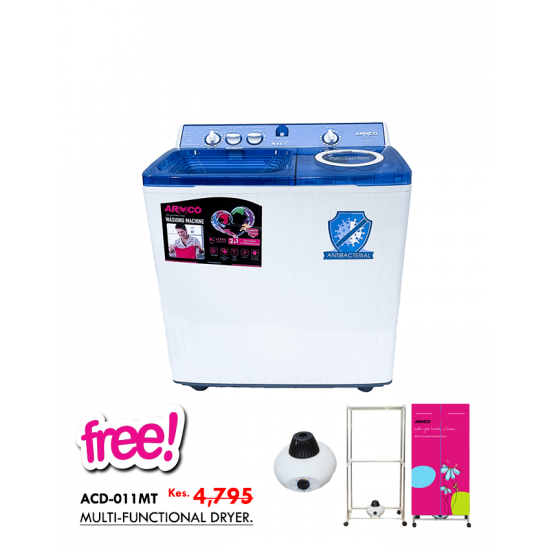 ARMCO AWM-TT1255P - 12 Kg Twin Tub Washing Machine - White
Stock:

In Stock

Model:

AWM-TT1255P

SKU:

2426

UPC:

2426

MPN:

AWM-TT1255P

Armco
ARMCO 12.0KG TWIN TUB WASHING MACHINE

Armco's AWM-TT1255P 12kg capacity top load washer reduces the amount of time it takes to do a load of laundry. With its mega capacity drum, now you can wash your batch of clothes, a king size comforter and full set of bedding in a single load.
Off Load
This washer showcases supercharged cleaning technology that virtually eliminates dirt and wrinkles to offer a deeper and more thorough cleaning. The High Speed Spin (1350rpm) cycle effectively removes stains as well as perfect the air dry function to ensure your laundry dries up fast upon airing. Simultaneous Wash and Spin allows your detergents penetrate more deeply into fabrics; this washer can get any stain out of any fabric in near record time.
Perfect Fit
The Armco AWM-TT1255P 12kg capacity has enough room to fit a king sized comforter and a full set of bedding all together in one load. With modes to reduce wrinkles, odours and reduce the need for ironing.
Technical Specifications
Air Dry Function
External Scrub Top
High Speed Spin 1350rpm
Double layer Anti- Shock Plastic Body
Twin Tub Washing Machine with Pump
Internal Anti Detergent and Anti-Rust plastic Drum
Simultaneous Wash and Spin Function with Twin Motors